1. Before your interview is scheduled to start, select the option Test your system before interviewing found in your invitation email. After your system is tested, you will be directed to the interview. You can also select the option to go directly to the interview in your invitation email.
2. The first page of the interview will list your name, the company, the position title, and the required equipment. Select Let's get started to continue.
Please note: If the first page of the interview also lists dial-in phone numbers with an Access Code, then you will need to use your phone for audio during the interview. Call the applicable number, enter the Access Code when prompted, and then select Let's get started on the website to continue.
3. If you need to chat with your interviewer, you can click on the Group Chat option at the bottom of the page.

4. The HireVue Terms and Conditions will appear next. To continue, you must select the option I agree. If you disagree with these terms and conditions, you can reach out to the company you applied to.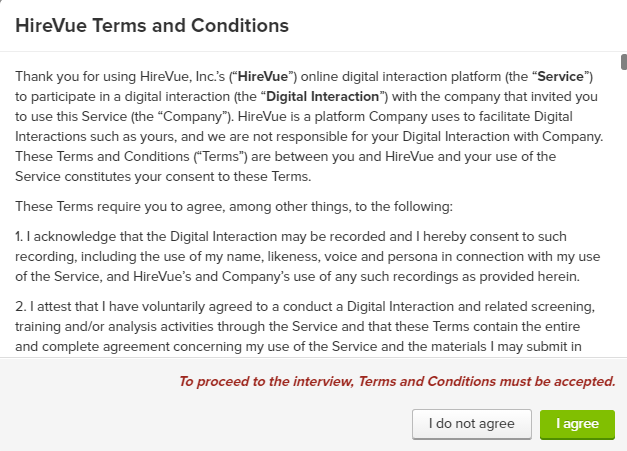 5. You will now be on a page that says, Checking Your Settings. Your connection, camera, microphone, and speaker will be tested. To continue to your Live interview, all of your equipment must pass.
For the Speaker portion to pass, you must select Yes to confirm you heard the noise. If you did not hear the test sound, click the play icon to hear it again.
Please note: If the page only tests your Connection and Camera, you are doing a Live Dial-In interview. Ensure you have called the applicable number and entered the Access Code at this point.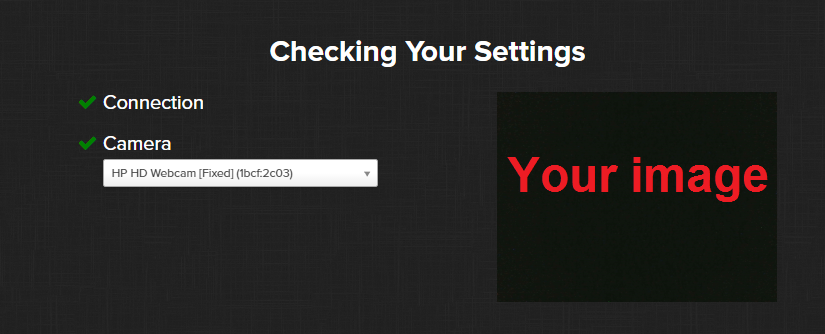 6. Once your equipment passes, select the option, Enter Interview Lobby.
​
For Live interviews that use your microphone and speakers, the microphone meter should move with a green color, and you should see your image.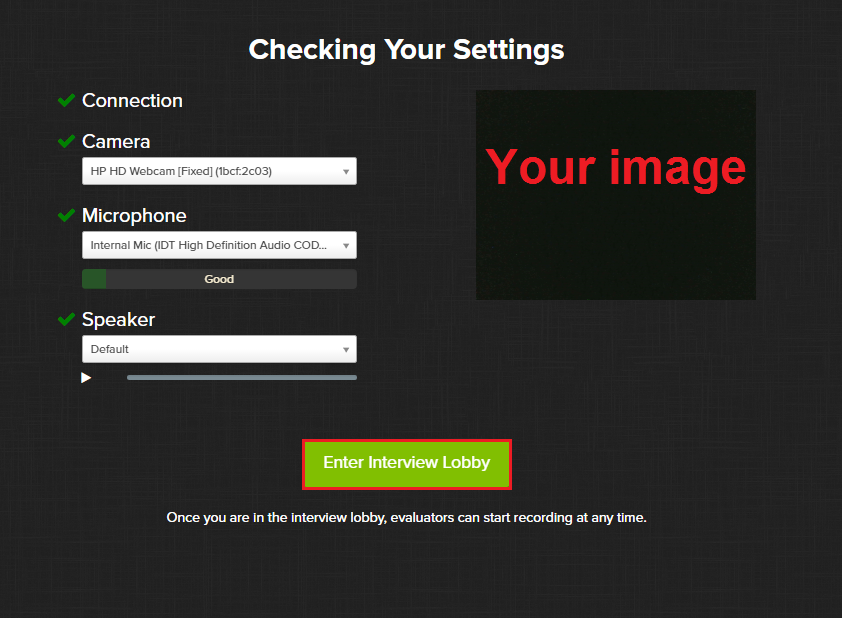 7. In the interview lobby, you may need to wait for your interviewer(s) to join before the interview starts.
8. When the interviewer starts your interview, you will see a 3, 2, 1 countdown, and their image will appear.