For a full list of devices you can use to complete your On Demand interview, please check out this article.
1. To complete your video interview using your mobile device, you can download the free HireVue for Candidates app from your device's App Store or Google Play Store.
The icon should look like this: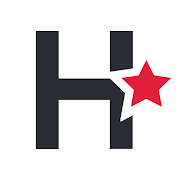 2. Once you've downloaded the HireVue for Candidates app, return to your interview invitation email and click the 'Start or Practice' button. This should automatically launch the app and auto-populate your interview code in the app. If it doesn't populate your code for you, you can also find your code at the bottom of your invitation.
3. You'll be taken through a series of introduction screens, welcoming you to your interview and listing the name of the company and the title of the position you're applying for. You'll also see a description of your interview, including the number and types of questions you'll be asked to answer, and an estimated length of time to complete the interview. Next, you'll be presented with terms and conditions. You must accept these terms and conditions in order to proceed to your interview. For any questions or concerns about the terms and conditions, please contact the hiring company directly.
4. Next, you'll be asked to allow access to your camera and microphone. You must allow access in order to proceed with the interview.
If you've accidentally clicked 'Don't Allow', you can check out these articles on allowing access to your microphone and camera for Android or Apple devices.
5. Finally, you'll be presented with the option to 'Try a Practice Question' or 'Skip to the interview.' We highly recommend trying a couple of practice questions until you feel comfortable with the interview process, and to make sure you are happy with the audio and video quality of your interview. If you do not see an option to practice, this indicates that your On Demand interview does not require any recorded video responses.
For more information on how to practice your interview, check out this article.
When answering questions, you will have the following options:
Read the question text again by clicking the script button

. Click the arrow button to hide the question text.

Hide your video image by clicking the camera button with a slash

. Click the camera button again to show your image.

Start recording the question by clicking the red circle button

.

Stop recording the question by clicking the red square button

.
Once you have completed your interview, your responses will be uploaded, and the hiring company will review your submission and determine next steps in the hiring process. HireVue provides support for the interviewing platform, but we are not involved in the hiring decision or the next steps, and we will not have access to any information about your application status. Please reach out to the hiring company with any questions about the hiring process after you have completed your video interview.
Best of luck with your interview!